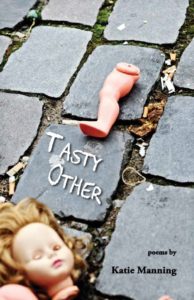 Winner of the 2016 Main Street Rag Poetry Book Award
Tasty Other was published in November 2016 and is available now from Main Street Rag or directly from the author.
These poems explore the wonder and terror of new motherhood, using everything from fairy tales to the poet's own pregnancy dreams.
In birthing a baby, Katie Manning has also brought a new book to birth, each poem a living cell growing to a full body of poetry. It is earthy, witty, and speaks out of authentic personal experience. Taut, yet vibrating with life, I love how it gathers momentum as it goes. –Luci Shaw, Author of Sea Glass: New & Selected Poems and The Thumbprint in the Clay. 
Tasty Other is a stunning collection where the surreal feels terribly real—Manning's dream poems about pregnancy and motherhood are funny, frightening, and absurd—which resembles parenthood perfectly. Manning's voice invites us into her subconscious and makes us feel at home there. Tasty Other is a must read. —J. Bruce Fuller, Author of Flood
Tasty Other, Katie Manning's first full-length book, confronts in vivid dream sequences, oblique and sometimes disruptive imagery, and persistent lyricism, the anticipation and the anxieties of pregnancy, childbirth and parenting. "What to Expect," declares Manning in a prose-poem nod to the abecedarian, listing the iterations of her experience of pregnancy: everything from "acne, additives, age, and airbags" to "warts and water, workouts and witch hazel." Both playful and wary ("Expect x-rays. Expect yoga and zinc"), Manning has birthed a welcome new voice in this collection. —Carolyne Wright, author of A Change of Maps and Seasons of Mangoes and Brainfire